Avoid These Common Landscaping Maintenance Mistakes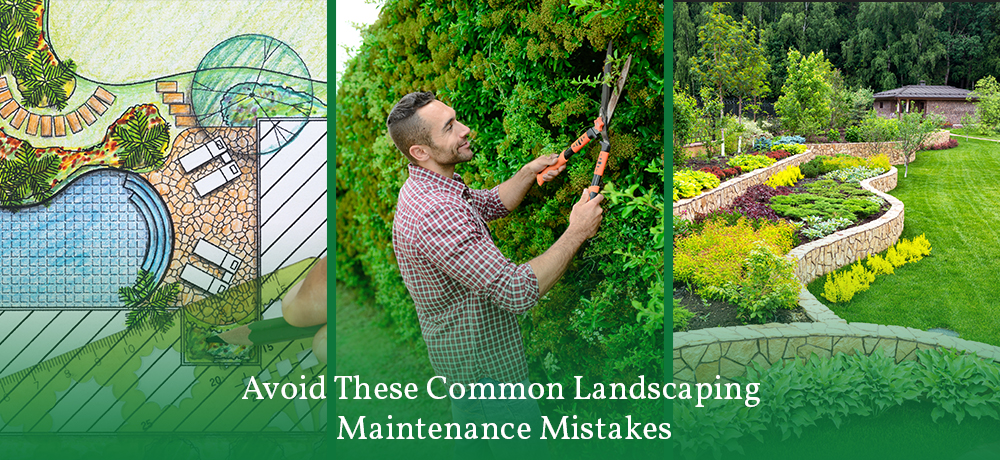 Hiring a landscape design and maintenance company can help transform your yard or commercial property into a blissful oasis. But don't hire just anyone! A thriving outdoor space requires careful, science-backed planning and maintenance. When it comes to the selection of appropriate plants, shrubs, and structures for your garden, you want to ensure you have the help of an educated, experienced professional. With so many factors to consider, like sunlight, climate, and soil-type, a well-intended landscape design can wither away.
To help you achieve a beautiful green space, here are the most common landscape maintenance mistakes you should avoid.
Hiring an unqualified person for the job. Clients often assume that the individual doing a tree/shrub estimate on someone's property knows what they are talking about, and or can relay what exactly they are recommending to correct a plant issue! Check for references, and any other certifications, and credentials they can provide, for your own clarity! Do your homework, and truth finding!
Assuming whoever did the estimate will also be performing the work. Quite often the person doing an estimate, will not be the same person doing the work so some information may be lost during the pass-off! However, at Ornamental Landscape Maintainers, I do the estimates the actual field work myself. I have the interest as the trained professional, with 45 years field experience. I am also a graduate of Dalhousie University in Horticulture, and the business owner for 28 years. I will get it right the first time, every time!
Not hiring an I.S.A. Certified Arborist. Often the tree company representative doing the estimate has minimal training in plant science or health care; therefore you should ascertain as to whether the estimator is, in fact, an I.S.A. Certified Arborist; and if so, how many years experience as an I.S.A. Certified Arborist do they have? Always ask if the person doing the actual work is an I.S.A. Certified Arborist. Follow up that discussion by doing your research on the ISA.COM website to verify if they are listed as an active member in good standing.
Not verifying BBB accreditation, licenses, and insurance. Do you know if the people you have allowed to work on your property are licensed and insured? Are the listed in the Better Business Bureau as in good standing? If a worker who is not adequately insured is injured on your property, you may become liable for their recuperation, and their loss of wages, etc., indefinitely. Always check references, insurance, and credentials before allowing workers on your property.
Underestimating the maintenance required. Clients often don't understand that all plant material in the urban setting requires some maintenance, in particular, timely watering. If the plant does not receive appropriate watering, the plant can then become stressed out and more susceptible to the introduction of insects and disease. So please be aware of the maintenance plan required and be proactive in caring for your plants. If you cannot handle all the maintenance work on your own, always call a qualified tree health care professional.
Not taking the time to get to know the greenery on your property. When purchasing a new house with lots of plant material on the property, it is best to consult with a certified professional in health care with field experience to familiarize yourself with each plant. You should learn the name and condition of each plant, and the best way to take care of the plant into the future! For that advice, most plant health care professionals will give you a health care report, and a consultation for a modest price. Hiring a professional is well worth the money and peace of mind.
To avoid these common pitfalls, reach out the experts at Ornamental Landscape Maintainers Ltd, in Calgary, AB. Ornamental Landscape Maintainers provides a full range of arborist and landscaping services including tree removal, tree pruning, tree planting, retaining walls, and walkways. Visit www.ornamentallandscape.ca to learn more.
---
---